As more and more people look to hiking for exercise, as a hobby, as a challenge, for improving their mental health, and simply as a way to enjoy nature, many need advice on where to go. 
I often see Facebook posts from people asking for ideas on where to hike if they want to "jump in a lake" at trail's end, to drive less than an hour from their home city, to see a moose, to watch a sunset or sunrise, or to take young children along. By my very unscientific math, these particular answers can be found, 9 times out of 10, through a recommended app.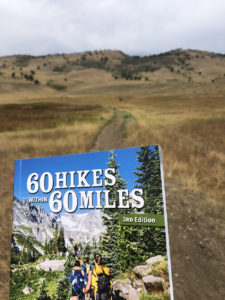 Even though I do some online research ahead of hiking at times and use an app for tracking my miles and other details on trails, I'm still an advocate for using books over apps when I recommend trails. And my suggested answers to most hiking questions can be found in my book 60 Hikes Within 60 Miles: Denver and Boulder. Or I can point you towards a very specific trail (which likely also happens to be one of the 60 hikes in my book). 
Before becoming a guidebook author myself, I often turned to a two-volume set of books called Colorado's Best Wildflower Hikes (Westcliffe Publishers, 1998), and I have referenced many others just out of curiosity and for fun. This doesn't always mean I have had the book in my backpack during a hike, but I would have read it ahead of time in search of inspiration and ideas for an outing with family and friends as we determined what we wanted: shade? wildflowers? a waterfall? 
In my opinion, here are the pros and cons of hiking apps v. hiking books.
Hiking Apps

Available on portable handheld device 
Latest updates on road and trail conditions
Hiking Apps

Hard to know bias or ability or experience of reviewer
Details can be for the wrong trails or outdated trails (I've seen this a few times, along with contradictory opinions/information.)
Guidebooks

Advice of one or two people rather than dozens to hundreds of opinions
Condensed reference information per hike in one place
Also available on digital devices
Make great gifts
Types of hikes categorized to narrow down your search
Guidebooks

Bulky to carry in a backpack
Neither books nor apps are always necessarily free, but both can be. Some apps are free to start, but as you increase what information you want, there might be a monthly or annual cost. Books might be available in a Little Free Library or found at a traditional library at no cost, though I like to encourage people to support local independent bookstores by purchasing a book or two or three. 
There's no reason that books and apps can't be used in tandem for hike research; in fact, if you have the time, it can be helpful to cross-reference multiple sources. However, it's also OK to explore and have a little adventure in the unknown too. 
The post There's a Book for That! appeared first on Menasha Ridge Press Blog.