Learn to identify the birds of Texas, and make bird-watching even more enjoyable with Stan Tekiela's famous Birds of Texas Field Guide. This book features 140 species of Texas birds organized by color for ease of use. Do you see a yellow bird and don't know what it is? Go to the yellow section to find out.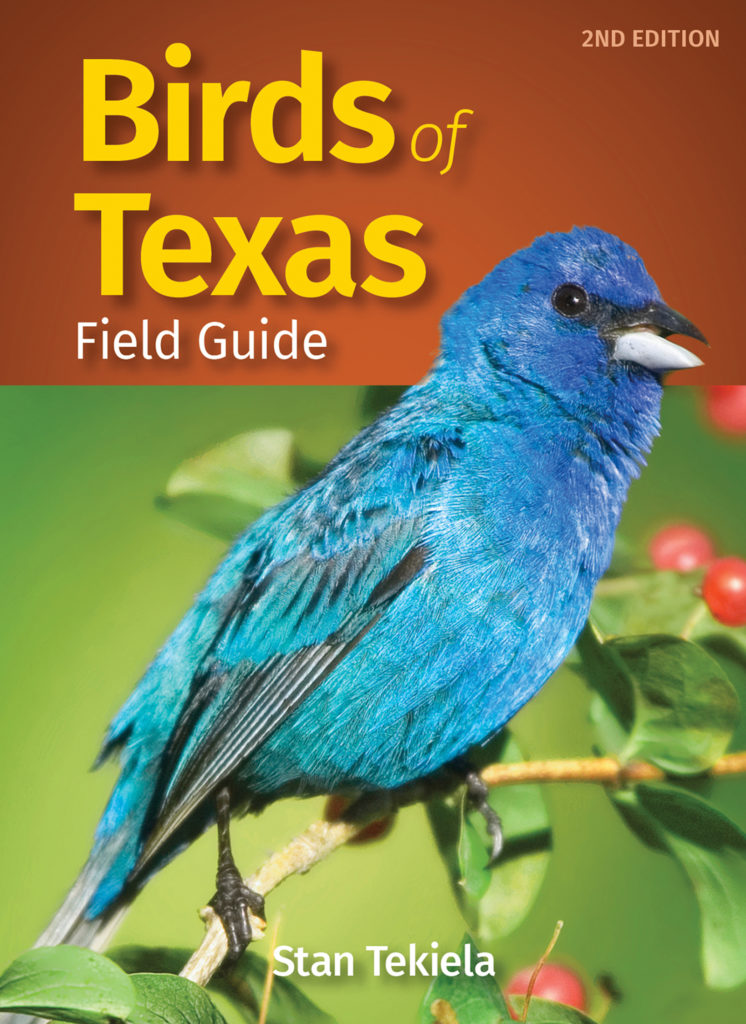 This new edition includes more species, updated photographs and range maps, revised information, and even more of Stan's expert insights. 
Here are some amazing birds to watch out for:
The Boat-tailed Grackle is a noisy bird of coastal saltwater and inland marshes, giving several harsh, high-pitched calls and squeaks. It eats a wide variety of foods, from grains to fish, and is even seen picking insects off the backs of cattle. The bird will even visit bird feeders!
Did you know that the Boat-tailed Grackle makes a cup nest with mud or cow dung and grass? Interestingly, the Boat-tailed Grackles in Texas and on the Gulf Coast have dark eyes. Birds farther east, on the Atlantic Coast, have bright-red eyes.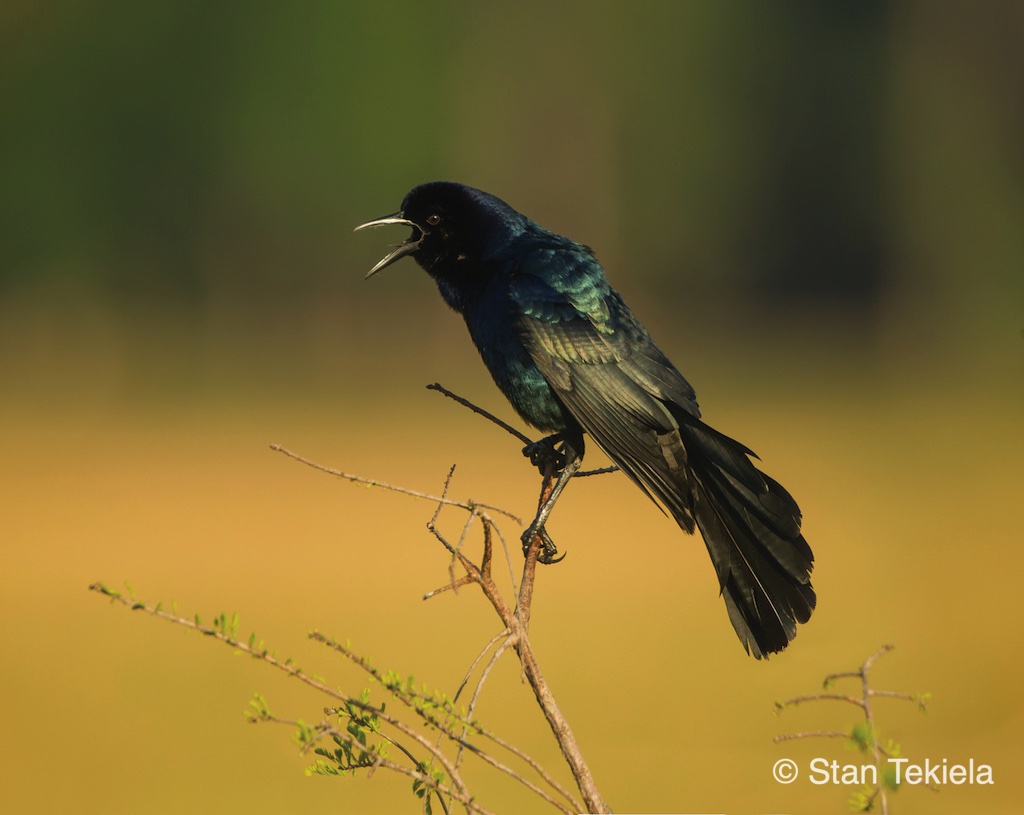 The Spotted Towhee and Eastern Towhee were once considered a single species called Rufous-sided Towhee. It is found in a variety of habitats, from thick brush and chaparral to suburban backyards, and it is usually heard noisily scratching through dead leaves on the ground for food. Over 70% of its diet is plant material. The Spotted Towhee eats more insects during spring and summer.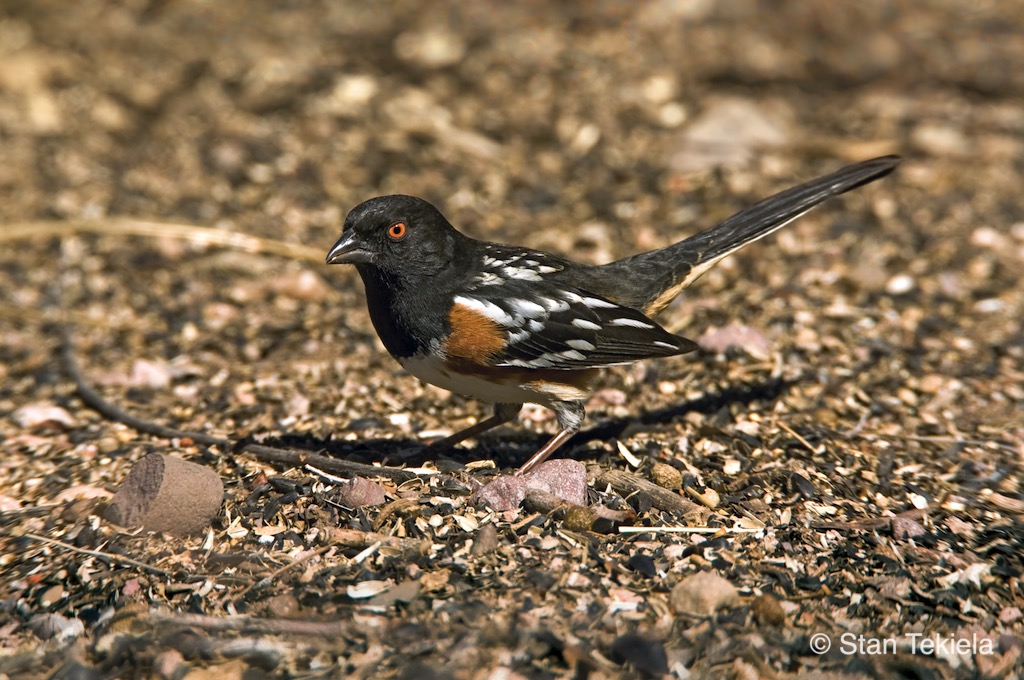 The Black-necked Stilts is seen year-round along the coast in Texas, and it can be found along the East Coast and as far north as the Great Lakes. The bird nests solitarily or in small colonies in open areas.
This very vocal bird of shallow marshes gives a "kek-kek-kek" call. Its legs are up to 10 inches long and may be the longest legs in the bird world in proportion to its body. Black-necked Stilts are known to transport water with water-soaked belly feathers (belly-soaking) to cool eggs in hot weather.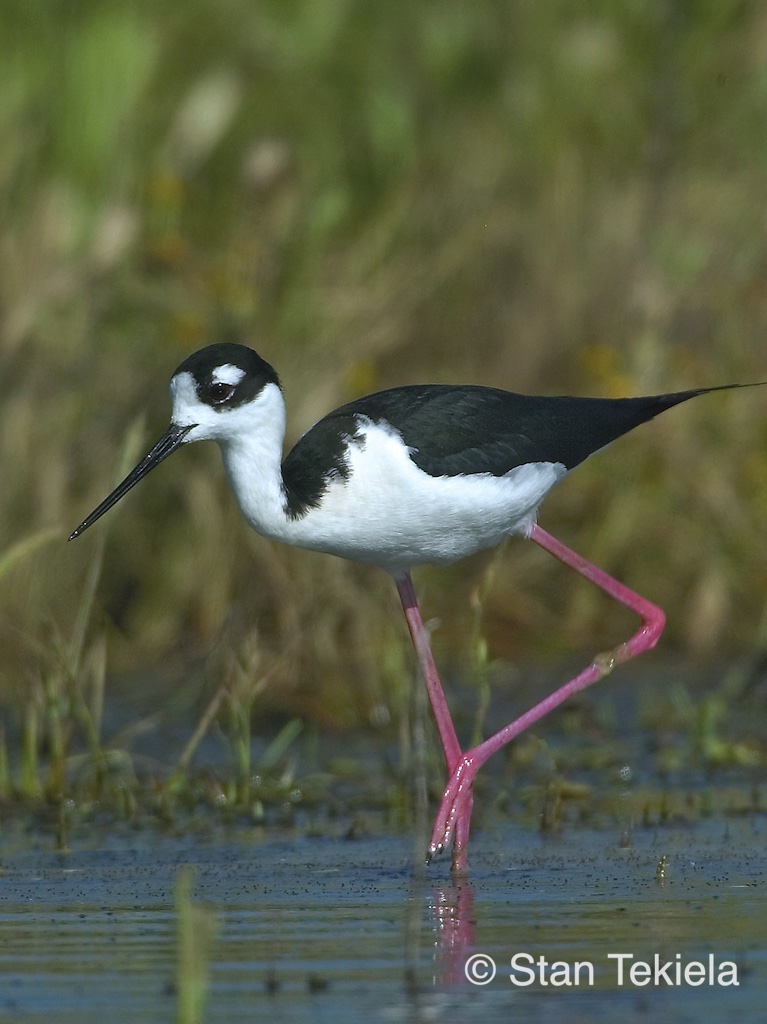 The bird aggressively defends its nest, eggs, and young. The young leave the nest shortly after hatching.
So grab Birds of Texas Field Guide for your next birding adventure―to help ensure that you positively identify the many birds that you see.
About the author: Naturalist, wildlife photographer, and writer Stan Tekiela has written more than 175 field guides, nature books, children's books, wildlife audio CDs, puzzles, and playing cards, presenting many species of birds, mammals, reptiles, amphibians, trees, wildflowers, and cacti in the United States. With a Bachelor of Science degree in Natural History from the University of Minnesota and as an active professional naturalist for more than 25 years, Stan studies and photographs wildlife throughout the United States and Canada. He has received various national and regional awards for his books and photographs. 
Also a well-known columnist and radio personality, his syndicated column appears in more than 25 newspapers, and his wildlife programs are broadcast on a number of Midwest radio stations. Stan can be followed on Facebook and Twitter. He can be contacted via www.naturesmart.com.
For more stories about wildlife and nature, sign up for our newsletter now!
The post Discovering the Birds of Texas appeared first on Adventure Publications.